Vanity
Screen shots for icons and such are taken at the same time for the sake of consistency. That arbitrary time has always been my own birthday. I realized recently that I had come into possession of copies of my own birth certificate since I was last working, and could fine tune the exact time a little.
Shady Dealings
Another small change was adding a shadow effect to the icon images, befitting the Dashboard standards.
Operating at Scale
And now for some actually important changes – Disk Clock is now fully scalable. The core code was made resolution independent long ago, but there was still the matter of static CSS and other measurements. Appropriate factors are now being calculated dynamically (and recalculated on resize) Large sizes cause the CPU fan to spin up, but by and large it works pretty well. The Chrome version is now able to run effectively as a tab rather than a panel.
As of yet, I've not done anything to improve the resolution of raster graphics like the glass overlay or moon.
Layouts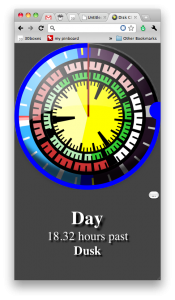 One particular challenge was what to do with the info panel that used to appear below the clock. Since Disk Clock proper can only effectively use a square space, I set up several different layouts, with the information appearing in the empty space to the side or below as appropriate. There is also an overlay layout when the window aspect is nearly square.
I also had to address the settings area – for a long time the browser version has had them side by side. It now defaults to being completely hidden. Text on both front and back scales with the available space – unfortunately some form elements do not scale, which can look a little awkward.
Sun and Moon
Disk Clock has been a labor of love. I've had a donate button out for some time – and have yet to earn a cent from it. I created some single-disk clocks (Day and Moon) to offer as free samples, with the multi-disk clocks being sold by some means, starting with the Chrome App Store, probably for a buck or so.