This past week has been Chicago TechWeek, an attempt to highlight the rapidly growing tech scene, which I stumbled into nearly two years ago. One of the many events held during the week was SPARK, which built on Startup Weekend
Startup Weekend is an exercise in rapidly creating companies. People pitch ideas, form teams, and try to put together the best pitch by the end of the weekend. Most teams disband afterwards, but a few go on for further development and even success (such as Zaarly)
SPARK attempts to build on startup weekend by sending three finalists to be incubated with local consulting companies for an additional three days. This give more time and advice on making a practical business plan, refining the pitch, and perhaps even building an online product. SPARK also had an application process rather than open enrollment, about which I have mixed feelings.
Friday morning I went into Chicago to look at a little bit of the TechWeek expo and conference. It turned out that I bought a full pass to the conference, and then got accepted to SPARK, so I spent most the time holed up in TechNexus. I really wish events wouldn't run the startup/hackathon in parallel. MidVentures Launch actually did this right last year, having the hackathon the weekend before, and then offering up demo slots to the winners. (This year it was part of TechWeek, so I missed the event entirely)
Friday night was the pitch session. Out of 60 accepted attendees, 44 people pitched (two of them twice) This was followed by a round of post-it voting, with a dozen or so ideas meeting the minimum and then sorting out team membership.
For a while I thought I wouldn't pitch anything. Then the day before I had an idea on the train. I meet people all the time. They have various goals and ambitions. Often I think that I'll keep an eye open for anything relevant, and pass it on. However, over time it's easy to forget who I've met and what they are looking for. I thought I could keep a journal of sorts, though a database would be better so it's searchable. Now, why not make that a social network (or an app on a social network) that let people publish what they wanted, and keep it up to date. They could even post bounties, giving the service a chance to make money.
Nobody much cared; Looking-for got one or two sympathy votes (each person had three) Someone else pitched very close to my pitch last year – dealing with legal terms and policies. It did a little better, but not much.
In the end, none of the ideas really grabbed me. The evening had started with a Zaarly founder recounting his Startup Weekend experience – he asked around for the best developer and designer, and then badgered those people until they joined him. The basic message was that the team was more important than anything else. This ended up being the main determinate.
I met Neal Sales-Griffin at Hashrocket several months ago; it may have been one of the RailsBridge Workshops for Women He was on a mission to create Code Academy We met up afterwards, but by that point he had already been introduced to pretty much everyone I could have introduced him to. I ran into him a few times after that, getting small progress reports each time.
I saw Neal again when I finally made it (late) to the second SPARK pre-mixer event. He had decided there should be an online version of Code Academy, called Code Mountain, and he was pursuing the team-building strategy with full force. He asked me for a meeting later, although I stayed resolved to hear out the pitches before choosing sides.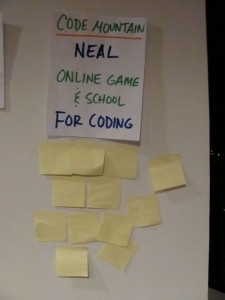 Code Mountain did fairly well during voting, and it was definitely one of the most interesting options. From a team perspective, I had seen the momentum Neal had gathered for Code Academy (he even said he knew most of the judges at Startup Weekend) and I knew from his story of teaching himself programming he had an extremely can-do attitude. Furthermore, during the pitches many people said things like "I need a designer and a developer". Neal said "I need Justin, ____, and ____"
Friday night we spent a lot of time talking about modeling and features, at which point it was late enough for me to head to the train. Saturday morning I used the internet while I was home to install a gemset. (I suppose if I did this often enough I could set up a master gemset with everything I needed and set it up as a gem source, but getting that master, up-to-date gem source would be a bit of trouble.) On the train I was able to start playing around with data modeling.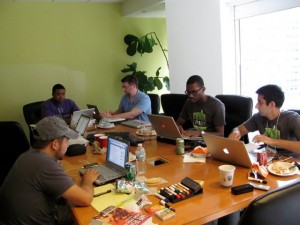 By the time I got back to TechNexus, pretty much everyone else was there. An exception was the other developer, who came in around noon. By that time my playground install had become "the app", complete with my set of personal preferences for gems and frameworks. The other dev wasn't on github, which made sharing less streamlined. I thought perhaps we could pair it, but he also wasn't familiar with most of the tools I had installed – something we should have discussed at the onset. He also came in after I had struggled through some modeling problems and was just cranking out the solutions. The result was he ended up leaving, feeling he didn't have anything to contribute. I later heard that he had oversubscribed the weekend, signing up for the conference, spark, and bringing family as well. It's still obvious my collaboration skills need a lot of work.
I was commuting back and forth by Metra the whole week, getting a halfway decent amount of rest. I'm in the camp that my work often requires clear thinking, and I'll pay for late nights later. On the other hand the, while the research on crunching does show negative impact, it can produce short term benefits. Several of the people on our team were working around the clock getting '40 minutes' of sleep. One might argue that they weren't programming, but since I don't really understand the details what they were doing, I'm not really in a position to comment on that. In any case, the real software wasn't in a presentable form early on, so it (and I) fell of the critical path and it turned into an elaborate slideshow, implemented with all the pain of HTML/CSS and none of the dynamism. Perhaps if I'd gotten it serviceable early on, our design people could have turned their attention to making that look good, rather than making a slide show. Meanwhile, I felt barely necessary at this step. With so many people on the team, I often felt like all the bases were covered and there was nothing really important left for me to do. Another collaboration failure.
With such a large and talented team, there was plenty of room for error. Code Mountain was one of three finalists chosen from Startup Weekend to go on to SPARK incubation. The impression I got is that Code Mountain got a fair amount of buzz and was an easy choice. But I'm probably biased, having the chosen the team in the first place. There were a lot impressive companies, and I've already heard that ViaTask has office space and is charging ahead even though they didn't resonate with the judges.
Although the team to company assignment was stated as random, we rather suspect it was deliberate. While two of the largest teams made the first round, the small developer-less Careerli team got paired with Obtiva, at talented group of developers big on Ruby. Foodies-turn-Duck-Duck-Dish were with Doejo, a company I'm not familiar with as they don't go to any great lengths to make themselves known in the circles I frequent. Both companies ended up with functional web applications. Code Mountain got paired with Pathfinder, who I would soon learn is big on lean startup principles.
Our guide was Pathfinder owner Bernhard Kappe. Besides practicing lean principles at Pathfinder, I recognized him as organizer and frequent presenter at Chicago Lean Startup Circle. This guy is intense. After everything was over and we were sitting down waiting for dinner, he was still going on about lean principles – after working with us for three solid days. But as I said, the team match-ups seemed somehow appropriate. Our fearless leader Neal is so convinced of the problem he's trying to solve, that he's not so clear on the need to present evidence that would convince other people. Lean principles like customer validation and lifetime value were just what we needed to ground the optimism a little.
Lean says you figure out what to build before you built it, so Pathfinder wasn't as heavy on development support. Of course, given the schedule, we had to do some building. Monday Justin cranked out a signup form. Brian was with for all three days. I once again failed to find a good way to work together. In spite of that, once we got things set up he did a much better job than I of finding things to work on and getting it done.
Wednesday evening Code Mountain donned Pathfinder shirts and took the stage first for final judging. The judges grilled Neal on several points; sometimes he had a slide ready to go, sometimes he said "I'll have to get back to you".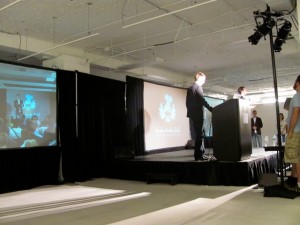 Next Duck-Duck-Dish came up and showed off a working web site on top of their mobile app, with a test event already run and another scheduled for that evening (I see that they've got another one lined up in a few days as well)
Careerli pulled a nice trick of running a video of the app demo on the second video screen feed, so that they didn't have to stop and talk about it. The app looked pretty solid, but we expected nothing less from Obtiva. I think the Careerli people are very passionate about helping people choose a calling, and I think that some people would find it really helpful. I'm not so sure it's a solid business, and the judging panel was approaching things from the investment angle.
The people in the hall mingled for a bit while the judges deliberated. Then Mitch Lowe from Redbox came out for a short speech. He said he had five principles: conviction, timing, talented team, resources, and momentum. He choose to focus on conviction and momentum. As he opened his speech by saying that he had to be careful not to reveal the winner too early, one can't help but wonder if his choice to focus on conviction and momentum was a bit of insight in the judging process. I for one would have loved to hear the direct criticism and thought process of the panel. When he talked about conviction, I couldn't help but look at Neal. The Careerli group had conviction as well, but perhaps not so much momentum. Neal's work on Code Academy had built up a fair amount of momentum. If you assume his choice of topic related to the judging process, it's no surprise that Code Mountain won. The team is trying to set a time to reconvene and see what's next.
I could probably have been happier about the victory. Essentially I didn't feel like I contributed materially to the victory – the demo site was an elaborate slide show, and a regular slide show would have been nearly as effective and much easier to produce. Meanwhile, I often felt directionless and may have contributed to the departure of another team member. For all that people complain about the lack of developers at these events, it's really about making a viable company; for a software company you need developers eventually, but maybe not in the first six days.
In the end I do these events precisely because it's a harsh reality check. At my first Startup Weekend, I had a failure of confidence. I couldn't commit to delivering a working app, so we tried other avenues which didn't work out. I started playing around with a rails app on the train, and if I'd done that from day one we might have been fine. This time I would have needed to push a bit harder up front to make a real app viable, to avoid going off down the smoke-and-mirrors alley. For all Neal's confidence in me, I'm still at the bottom of the mountain.