Thursday 2011-08-18
After my trip to Cave of the Mounds, I headed back to Madison. I've looked around the city a little before, when the charity harp concert was held at the Monona Terrace, so I headed directly to the conference site.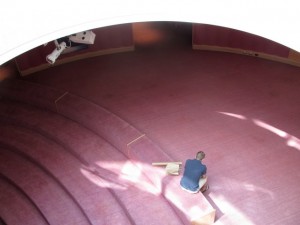 The day before the conference proper included a RailsBridge workshop for women. I've helped out at the Chicago workshops before, so I dropped by, a little later than I had first hoped, to help out. I also said hi to the primary organizer, whom I haven't seen in a while.
Afterwards I went and checked in to the Madison Hostel. It's another experiment. It makes hotel stays a lot more economical and offers more chances to meet people. On the other hand, it's harder to sleep with people coming, going, and turning on creaky bunks. I also opted for the free parking a few blocks down since I wouldn't really be using the car while in town; however I ended up making several trips to store and retrieve things.
There was a sponsored night at the Old Fashioned downtown. Though I still wasn't an official attendee of day one, I'd been invited by the people I know – and anyway, I don't drink. I also bought dinner at the bar (quite good) only to then discover that some of the people I knew were going out to dinner – so it goes. I sat for a while in the gathering dusk of the capital grounds working out a lightning talk for the next day.