Last week I attended my second Social Dev Camp Lots of interesting stuff, but not uniformly distributed. Meanwhile, I've been finding blogging to be time-consuming process, so I'm going to try and stick to the highlights.
I started the conference off by manning the ChicagoRuby 'office hours', a program the organizers set up to bring out the local technical user groups. The first real talk I saw was Turning Mistakes into Success. Joshua Karp describe his adventures and misadventures with several companies. I've certainly found primary experience to be the best teacher, and Joshua had his experience distilled down some high level concepts, though they sometimes require his backstories to properly interpret.
Don't cut corners – here he told a story about handing off fund raising to a relative stranger – who absconded with the money.
Build strong relationships – make status reports or calls
Verify the important stuff – he had a salesman selling him a bridge about his customer prospects
Keep your eyes on the ball – be careful with press, funding and revenue relative to your actual product
Use common sense – his paper once placed a risque ad next to a family one.
Make a difference in people's lives
Focus on value (why), not function (what). Every function must support at least one value.
Be open and honest
Have courage. Among other things, you've actually got to ask for money.
Listen
David Kadavy talked about making effective use of whitespace in design. Beyond a little geshtalt theory (similarity, proximity, closure), a lot of this would require diagrams; rather than try to awkward descriptions or time consuming diagrams, I'll just recommend you buy his upcoming book Design for Hackers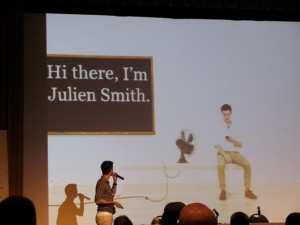 People came back together for a keynote by Julian Smith, complete with a really tricked-out slide deck. He covered a lot of ground, starting off with: build the channel (network) before you need it. Try to interest specific people, and make the rest angry. This builds social capital. An interesting speculation: does "pillar of his community" precede "successful businessman"?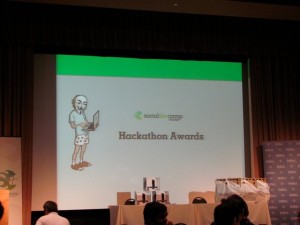 The Hackathon Sunday morning was interesting – but I took only the barest of notes, and could do little more than list the entrants.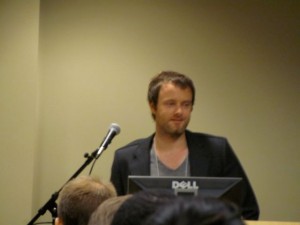 Craig Ulliott covered a lot of familiar ground in his talk on API Driven Design – MVP, bootstrapping, fail early, REST. It was nice to get a distilled list of advice from someone who's built a few APIs. One thing I found interesting is that his was the second talk about or recommending Ruby on Rails.
From there I made one unconference panel and a scheduled panel; perhaps they were too unstructured to inspire notes.