I was actually going to pass on October's Chicago Startup Weekend and just try to get some work done, but my partner Ray Lian had an idea bugging him.
Friday 2011-10-14
Friday afternoon I misplaced a digit in the train time and missed my scheduled meet up with Ray. We didn't come together until we were en route to Excellerate Labs, arriving late, but just in time to eat while the talks were going on. I believe there were 110 participants, and about half of them pitched ideas – the organizers had to cut the pitching off for the sake of time.
Ray came in just wanting to build a proof of concept, and he said as much in his pitch. The idea was to build an app gave you exactly what you need at your current location – the example being to bring up the airport schedule when you are in the airport
Every Startup Weekend seems to bring a new voting method. This time they handed out tickets and had people mingle and hand over tickets. While this was somewhat streamlined, it meant that you had remember who pitched your favorite idea – after watching a parade of fifty total strangers. Maybe next time I should be writing down shirt colors instead of names.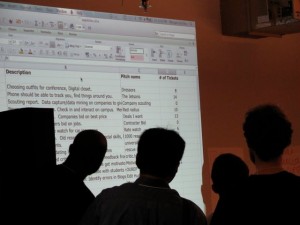 Though Ray tried not to oversell the pitch, he did network well, and came out of ticket trading with 14, merging in two other location based ideas. I didn't notice the final cutoff for the 13 teams, but I think it was around 10 tickets. Most successful teams had around 10-14, I think there was one 24 or so.
14 tickets did in fact translate to seven people, although one didn't return on Saturday. Our team, left to right (I though I might have the biz devs backwards since I didn't work with them much.)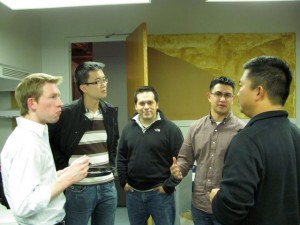 Chris Gryzywacz – business
Mingwei Shen – PHP, fears no challenge
Luis Armando Gomez – PHP/Javascript, front end design
Morgan Brewster – business
Ray Lian – Idea man, former Java dev learning Ruby, studying business.
Justin Love (not pictured)
We spent Friday night throwing around ideas and getting an idea of what we were going to build. A key feature was that we had to return relevant information, and one determinate was time – you might want some place to eat round noon, for instance. And thus I named the app.
Pacha is an old Quechua from the Andean region; I ran across it in a book called Secret of the Incas, and somehow it resonated with me. It's concept with not perfect translation; various translations are "world", "the earth", "time ground place". It means place and time simultaneously. You can go to the 'place' where the Incas reigned, and will be a very different experience than it was when the Incas lived there – it is a different at either of those 'times', or at any time, you can go to two different places, and those will be different experiences – different pacha. It's pretty obscure word, and even Wikipedia only has a passing mention under Spacetime
The idea of the app is that shows you what is relevant right here, right now – at this pacha. At a different place or a different time, it's a new pacha with new information.
We didn't have a solid coding plan in place by the end of the night (more on that later) so worked on another project waiting at the station (there is no 23:40 on MD-W) and on the train home. When I got back I checked in, schedule a cab, and took care of a number of other little things, not getting to bed until almost 03:00.